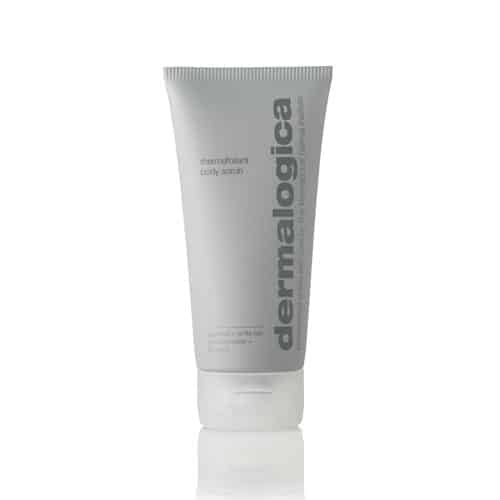 Dermalogica's new Body Collection is a comprehensive selection of formulas that
cleanses, hydrates, brightens and nourishes – and delivers restorative relaxation.
Whether you have just 5 minutes for a shower or can carve out 30 minutes of me time in the bath, our body collection will heighten the senses, leaving you feeling invigorated and refreshed and leave your skin feeling incredible.
Thermafoliant Body Scrub is a dual-action body exfoliant that energises and brightens dull skin.
Skin can become dry and dull when dead cells accumulate on its surface. This dual-action exfoliating scrub dissolves dulling dead skin cells, hydrates, and delivers vital antioxidants – leaving skin purified and refreshed.
It contains Indian Bamboo Stem to physically polish the skin and Lactic Acid to dissolve dull, dead cells. It also features Natural Sea Salt to revitalise and hydrate, along with a blend of replenishing bio-lipids to help protect and strengthen the skins barrier.
Key Benefits
• Exfoliates to refine skin texture
• Energises and delivers vital antioxidants
• Brightens skin tone
Massage onto wet skin using gentle circular motions, then rinse. Use 2-3 times per week.
Key Ingredients
• Indian Bamboo Stem physically exfoliates to refine skin texture and brighten tone.
• Papain (from Papaya) and Lactic Acid dissolve dull, dead cells.
• Natural Sea Salt revitalises and hydrates.
• A blend of replenishing bio-lipids helps to protect and strengthen skin barrier.
• Extracts of Liquorice, White Tea, Coffee-berry and Chamomile infuse skin with vital
antioxidants, while oils of Tea Tree and Grapefruit Peel purify and refresh.