Lily James recently found herself unexpectedly at home on the set of her first-ever makeup ad. Yeah, her new title sounds like a perfect match for the incredible British actress as Burberry's newest spokesmodel, but actually, she claims, it's because filming the ads didn't seem all that different from her regular gig. "I've been playing some roles recently that weren't a million miles from me," she informs us. So you have to identify and improve those elements of a character inside you. "That's exactly what I did with this, so it was really similar." Yeah, aside from the fact that Christopher Bailey and Mario Testino served alongside design giants.
Lily James is the face of My Burberry Black, Burberry's newest scent, a deeply intoxicating mix of jasmine, amber, rose, and patchouli, entering the ranks of countless other It Brits who have faced the mark, including Suki Waterhouse, Cara Delevingne, and Kate Moss, just to name a couple. Just another explanation why this match is so great? Lily James is a self-professed junkie of a scent, something about which we can definitely contribute. She is talking with us below about her scent preferences, cosmetics routine, and early recollection of appearance.
MDC: Ever since 2016, you have been collaborating for Burberry. Why have you seen the persona of attractiveness change since then?
"What I really love is how I have been influenced by my relationship with Burberry Beauty — like it's symbiosis, a natural thing. I think it sticks in the [Matte Glow Foundation] campaign, that real feeling of elegance, and it feels quite sophisticated and refined. I found that's been quite empowering, and I've held on to that and tried to frame that as much as possible."
MDC: For you, what is the marker of a great foundation?
I use [Matte Glow Foundation], like, every day because it's very light because it feels breathable. You can put on a really minimal amount and it gives you a good coverage. Because it also covers it because you have some imperfections. Even with moisture and heat and things, it stays, and on the face it just feels really, really great. I don't want to wear a ton of cosmetics, but this foundationatioo
MDC: Tell us about the beauty prep go-to skin-care routine.
"I always cleanse, tone, and moisturize — no matter how late it is or how much I've had to drink. It's really good, particularly in England, to wash with cold water [because] my skin is quite dry. I use this amazing Dr. Barbara Sturm Hyaluronic Serum to keep the liquid in my skin."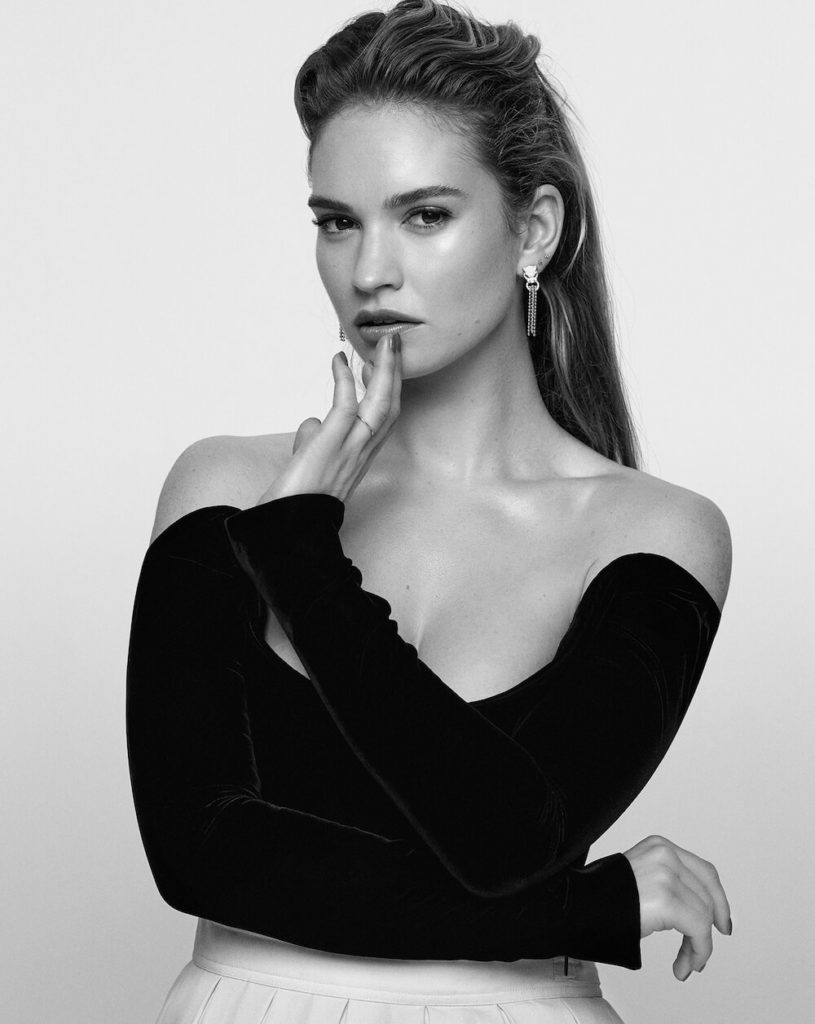 MDC: Can you have a favorite moment from shooting on location and the My Burberry campaign?
Lily James: The rain machine was awesome! On set with umbrellas, I just had too much fun running about. The music was playing super loud, and I was just dancing in the rain.
MDC: What are the go-to tricks for perfume applications?
Lily James: I'm spraying my hands, my head, and then I'm still walking through it. I'm doing anything! [Laughs.] It's fun to stroll outside. It's a huge waste of perfume, I am sure, but I love it.
MDC: We've certainly read it. Will you have any makeup models for motivation that you look up to?
Lily James: I love Julianne Moore; she is so gorgeous. She just looks so chic and warm and sexy all the time, and I just love her hair and makeup.
Also read: Halston Sage on L.A. vs. New York
MDC: First Memory of Beauty: Go!
Lily James: After putting on all my mum's makeup when she was eating dinner, there are photos of me at around 4 years old. What's incredible, however, is that I really kind of got it all in the right places; I mean, it's bad, but it's nice. But I have had an eye for lipstick, clearly!
MDC: Your enviable eyebrows are pretty well known to you. Whose mystery is yours?
Lily James: I used to pluck my eyebrows over. It was almost about one hair deep when I first began performing. So, with a character, this director told me, I was portraying a 14-year-old, he told me to grow my eyebrows out. My entire face just shifted. It was a really thrilling moment, and luckily they grew back. Now, I'm basically plucking them as little as possible. I'm filling them with a little 'caca'.
MDC: Are there any latest patterns in cosmetics you're itching to try?
Lily James: "Lucy Boynton always does quite bright eye shadow, and I think that's really beautiful and really fun, so maybe just to be a bit more experimental. I also really like making my lips as big as possible. I'm slowly embracing that lining right out on the outside of the lip to get a really big pout."
MDC: Besides overplucking, what's your greatest disappointment for beauty?
Lily James: "I used to put concealer on my lips, almost like taking nude to like a whole other level. You'd basically be blocking out your lips. I don't know what that was about, that was 2000 or something. I won't ever conceal my lips again."
MDC: Did you take some valuable style tips from costar Meryl Streep while you were shooting Mamma Mia: Here We Go Again?
Lily James: I know it sounds like corny, but it just radiates her grace, like she's so illuminated from the inside. I mean, she's clearly strikingly gorgeous, but I had to dance with her, and I think [her beauty] was just about confidence and a new, free spirit written in [her character]. I didn't see her put on lipstick or something, but I wish I had. I've been watching her all the time and I wanted to drink up all of it.
Also read: Alexa Demie on Her Beauty Icons & New MAC Collection
MDC: Without what kind of cosmetics should you never leave the house?
Lily James: Ok, my vibe was like the Matte Glow campaign I did recently, but I prefer to wear the foundation and maybe a little bit of the Burberry Kisses Lip Lacquer. I love the moody, darker varied shades, and I like to layer it on my lip to make it seem very full. It's really chic, you know, just to highlight the lips, and it's not annoying with those lip lacquers. They just stay on; you should stay on any sort of lacquers.
MDC: Would you still wear your own makeup or get it handled for you if you had to choose?
Lily James: "We're so lucky to get professionals to do our makeup. It does make a huge difference because of the ways in which they shade and contour. It is like being a magician, being a great makeup artist, so I do feel really grateful. The transformation from when you get in the chair to afterward is really huge."