THE DOPAMINE DIET, ALSO KNOWN AS THE 'TOM KERRIDGE' DIET, IS HAILED AS THE HEALTHY EATING PLAN WITH A SIDE-ORDER OF 'HAPPY' DUE TO THE CHEF'S FRANKLY ASTOUNDING 70 KG WEIGHT LOSS. CAN YOU EXPLAIN HOW IT WORKS? WE DID SOME WORK.
A weight loss plan that improves the mood is an oxymoron, however if celebrity chef Tom Kerridge's findings and ravings about the dopamine diet, also known as the "happy diet," are any indication, combining pleasure with a healthy weight is possible. In Kerridge's case, it's even fun. Kerridge isn't the only one who has seen results; one woman on Channel 4's How to Lose Weight Well lost 13 pounds by adopting the diet. So, what exactly is this happiest of diet plans, and how do you sign up?
What exactly is a dopamine diet?
The dopamine diet is named after the belief that through consuming certain foods, we will increase the development of dopamine, a neurotransmitter that affects our brain's reward center and improves our mood. What is it about a chocolate hit that makes you feel so good? It's a dopamine rush. Not only are fatty and sugary foods thought to cause an increase in dopamine, but protein-rich foods are also thought to do so, thanks to the amino acid tyrosine. As a result, healthy protein sources can provide a similar reward to sugary foods (bear with me here), assisting us in maintaining a healthy, balanced diet with fewer cravings and less risk of overeating (protein is typically more satiating than very sugary and fatty foods).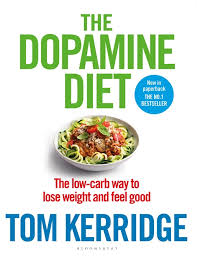 What did Kerridge do?
So, how did Kerridge lose 11 stone on a diet like this, and what did he eat? The British Dietetic Association has plenty to say about it:
Kerridge discusses his decision to remove all alcohol from his diet before going on to say that he eliminated almost all carbohydrates from his diet and that his current carbohydrate consumption is under 90 grams a day. His diet formula is to go from a "small steak and chips to a large steak and greens," and cutting out all alcohol, starchy, and sweet foods is a very efficient way to minimize energy (calorie) consumption.
Ingredients in a dopamine diet
Even a part-time chef wouldn't be able to eat a steak every day, so here's what else the dopamine diet has to offer:
Meat and seafood
Both are high in tyrosine, but you can avoid processed meats (sorry, sausages) and go for lean cuts instead. Tom's favorite dish is braised beef with horseradish. Salmon and other omega-3-rich fish are staples in the fish world.
Dairy products
Tom ate full-fat cheese, milk, yoghurt, and double cream because he considered dairy products to be "dopamine heroes."
Vegetables and fruits
Obviously, particularly dark leafy greens and bananas.
A dozen eggs
There's a lot of tyrosine in this one.
Soybeans
For some soya-rich grub recipes, go here.
Seeds and nuts
Squirrel away a few of these in moderation.
Chocolates
I AM NOT KIDDING, but make it dark. Tom has a dopamine-friendly chocolate mousse with sesame almond biscuit recipe in his book, and it sounds like something we'd enjoy.
The BBC has a dopamine diet hub with recipes including spinach protein pancakes and roast pork with lemon to satisfy taste buds and appetite while apparently boosting your "happy" hormone. Vegetarians and vegans can appreciate the pulse-based dishes.
SURELY IT'S DIET NIRVANA IF THIS WAY OF EATING WILL SUSTAIN AND IMPRESS A PROFESSIONAL FOODIE?
Smaller portions and daily meals are also part of the dopamine diet lifestyle, which Kerridge followed to keep his mood and blood sugar levels in check. Kerridge also kept fit by doing dopamine-stimulating exercises including swimming and yoga to unwind after a day in the kitchen. Isn't it diet nirvana if this way of eating will keep a talented chef satisfied and impressed?
The problem is that there is a significant lack of carbs in the dopamine diet strategy. While the dopamine way's combination of lean protein, healthy fats, berries, vegetables, and the occasional slab of chocolate makes it filling and nourishing, the BDA has something to say about the lack of carbohydrates in general, and whether protein through tyrosine can have much more of a positive impact on mood than good old carb contentment:
"This is one of the books describing low-carbohydrate eating, but his argument that protein foods bring pleasure (because they contain tyrosine, which in the brain converts to dopamine, which makes you happy) is a huge over-promise based on very theoretical principles. There are no human studies that suggest that eating more proteins increases dopamine levels in brain tissue, resulting in improved diet adherence. In reality, alternate arguments based on stronger evidence support the opposite: eating more carbohydrates raises tryptophan levels in brain tissue, which raises serotonin, which can make you feel happier, so cutting carbs isn't always a good idea."
So, how can we justify Tom's apparently calm approach to achieving significant weight loss? Although his meal plan has proven to be sustainable for him, pushing it to excess rarely fosters long-term success in any aspect of diet or lifestyle. The BDA concludes that the dopamine diet offers some healthy suggestions, but that taking low-carb and any promise of pleasure too literally can be problematic:
"There are a variety of approaches to eating less, and Tom Kerridge's method works for him. It could work for others, and his numerous recipes might serve as motivation to eat less and eat healthy. However, dopamine levels in the brain are not the cause, and eliminating carbohydrates can make it difficult to follow fiber recommendations."
We like Tom's dopamine diet dishes like fried halloumi salad and shepherd's pie with fluffy cauliflower mash, but tucking away some porridge, wholegrain bread, and brown rice will ensure you get a balanced profile of nutrients alongside all of the other goodness that the dopamine diet promotes. Plus, if you're going to buy a diet book, you might as well get one from a Michelin-starred chef…